Even as the Eid release Chennai Express is breaking records, Shah Rukh Khan reveals why it is special for many other reasons.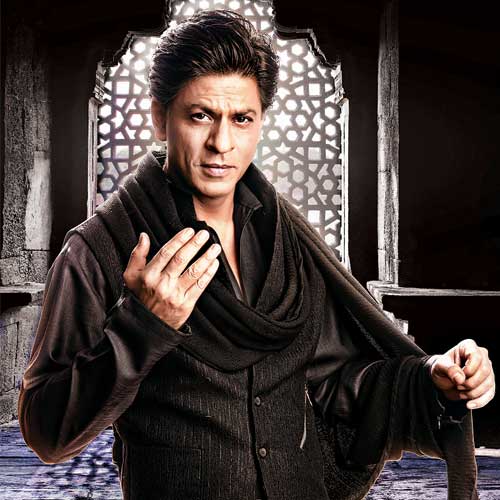 Shah Rukh Khan - Subi Samuel/DNA
Credit it to a superhit film,  cracking a new market (South) or simply the glow of becoming a parent yet again, but Shah Rukh Khan looks happier than ever before at his Eid bash. 

Adding to the special celebration is the fact that wife Gauri and his two children Suhana and Aryan, were by his side, wishing fans Eid Mubarak. In the interview, he confessed how he wanted to do this for years and has finally succeeded. 

In another exception, SRK lets his guard down, and answers every question I have about his friends, family and films. I caught up with the actor in his study post his Eid party for the media. Looking relaxed in a black pathani, he is all smiles. I take my cue and fire away. Read on... 
 
The past few days around the release of Chennai Express were very hectic?
I have no idea! There are days when I don't know what I'm doing. There are so many overwhelming things happening during the film's release. I'm in a daze.  

Do you crave moments of peace and calm?
I have lots of them. You know when I come back home from work, When I was younger there used to be an expression called downtime or unwinding... So I come back and if the kids... well they are obviously asleep, so I am left with myself for some time. I like being like that. Just sitting on my own, doing nothing. Just wash my face slowly or take a bath. I am hardly on the phone, I hardly make calls or receive them at home. 

And then I'll probably just go on my laptop, read a poem or sit down on the balcony. But I get that time on my own, I need to actually. Even at the shoot I tend to sometimes just go in the van and sit down staring at one pattern and if somebody saw me like that they would find it very odd but you know the life… it is surrounded by so much of noise and most of it positive, but so much work, so much dust so much beings so many right, wrongs, goods, colours that it's like a kaleidoscope. Sometimes you just need to stop and keep staring at one pattern. 

So I get that time. On the other hand if I don't have it, I feel a little unwell. Like when I was injured, I didn't know what to do with myself. And I have to be in real pain to stop myself that's why I think I get all these injuries. In a way it's a welcome sign so I just sit down that I'm in pain now. I can't do anything so I relax.

Despite the injuries, you have done all that action in CE… Were you missing doing that?
No, actually not at all, I have done action in films. Ra.One I think was more difficult, Don was okay. But yes, CE, it was like a very physical film. 14 days non-stop action, the chases and all that, so physically it was a tiring film and I was injured, so I was on cortisone injections, but I didn't feel it. I feel that when I'm acting I forget everything else, I'm just very happy doing whatever I am called upon to do. So I don't remember even to eat, or sleep. I just enjoy the acting part. I stop being tired. Like I'm tired now, but if someone tells me that I have a shoot at Mehboob,  I will just rush there, tired, but as soon as I come out of the van I'm a different person. I enjoy the process. So I have fun, even if it's hurting it's alright. 

People who've been watching you would agree that you are looking happier, relaxed...
(Laughs) Is it? I don't know. I have always been calm only, yaar. Like I was asking my kids and my son was asking, 'How are you so happy with so many people, some even talk so badly.' So I try to think of it, then I forget it. But it collects somewhere in the reservoirs of my heart and mind and then some day it just comes out. But the fact is I love everyone. I have no other way of living. Lot of people get taken aback if I get angry suddenly because I am otherwise quite pleasant. It just depends who comes across that day. I don't mean anything bad. I think twice a year I lose my temper, so now I am only calm, until I lose my temper again. I think they should put me on sedatives the next time… (laughs)

When you stepped out for Eid, Suhana seemed quite at ease but not Aryan…
See, they have never been outside like this, but I feel they are old enough now. I have never subjected them to the work I do, but I think it's time for them as kids to understand and learn to respect people who come outside their house and who love you so much. There are very few who have crowds outside their houses to wish them on a festival.... Every year I ask the kids, but they just hide. This year they are older, so I could push them. So they changed and they came out and they felt happy. So I feel good, it was nice. I feel safe with people around me who love me. They are kids, but I feel they are looking after me. 

Did you ever dream you would become so big?
I never dream, I just keep on doing. There's always a choice between dreaming and doing.  I don't have any specific dreams I never did... Sometimes I take a chance like I did with IPL and hope that it turns out well. Money has never been an issue because I have never done things for business. I always say that I don't work for posterity or prosperity. To me it's not like I want to leave a legacy behind or for immortality... I do work because I have a certain amount of talent and I should expose and exploit that and be prolific with it. So if my talent is in filmmaking I'll do that. Or if it's handling a certain kind of a fun business sports which I like, I'll do it. If tomorrow I feel like running a studio I'd like to have a studio. If my talent is in writing a book I will do that, if I feel that is. 

Talent need not be recognisable. It's something I feel like doing. And I have always been like that. I have just gotten up and done what I felt like doing. And a lot of it has turned out well. If I lose my money in business it's not like I won't do business again. Like I did lose for four years in cricket.  But doesn't mean I will step back. Because that's not why I did it in the first place.  I did a VFX which is investment heavy I did it for 12 years, lot of people don't believe in it, but as long I can I will continue doing it. People don't realise the process, they see the end result. And the process if you make enjoyable then the end result doesn't belong to you. Then it's for the others to point out. 

How important is victory in films or on the field?
My son was just telling me if you have victory over someone, would you go and tell them, 'see I have made it'. I told him that if you have to tell them, then you are not victorious enough. They should know it themselves. Like my son and daughter both play football and sometimes you can see how desperate they are to beat the other team. And you hate the other team, you are angry with them and sit in huddles and say they are nobodies and put in your best, pump yourselves up, but after you do beat them, you are gracious enough to shake hands. I think that's how success should be. You don't have to tell anyone including your own self, if you have to tell it's not success. 

Chennai Express has had a superb opening… 
I am extremely thrilled for Rohit, Deepika and myself, all of us, that it has got this humongous thing happening around it. I don't want to sound pompous, but I like the fact that with all my films as an actor or a producer there is a sense of celebration. Some may call it marketing, But I think it's a feeling. I would like to be that feeling that you can't deny. That's how I would like to be known as an actor. That it's not like I want to be known as the best actor or the greatest superstar or number 1 or win awards. I want to be known as a feeling you can't deny. 

If I can manage that with a film sometimes and I do feel that at times that you may like me or dislike me, you may have issues or morals attached… why did he walk here, why he talk there, why did he do this film, why is he hanging with this man or that woman... but it's a feeling and I want to be that feeling that won't go away. That's how I would like to be remembered. So in this film I liked the fact that it's being felt right now and let's hope it goes on to make a lot of people happy, I want to make more people happy with this film than any other film has done in the world.  

The film has Brand SRK come together with Brand Rohit. So whose brand is it really?
For me it's always brand director. Now you see all my eight-ten films. Chak De is Shimit Amin, Swades is Ashutosh Gowraiker. Jab Tak Hai Jaan is Yash Chopra… I am acting in all of them. I give myself completely to the director. You have to respect, love, listen, believe, and see the director's world as your own even if you don't believe in it. The  film belongs to the director. I have no issues being part of brand Rohit. I hope I could add or bring something new to his brand. But never at the cost of competing with his brand. That's my duty. If I do it, fantastic, if not, I am happy being the second fiddle. Or being a part of it. But it always becomes a SRK film although it's never been necessarily true. And should not be. 

The tuning seemed to be perfect between Rohit and you…
But that's with each and every of my director. You will find that relationship. The two relations you will see in every film are my relations with the directors and the co-stars. I'll always be hugging them holding them kissing them because I feel very close to them. I feel I have shared a part of my life with them. Whenever you will see my director on the podium with me, you will see how friendly it is. I'll be laughing joking, and even with the actresses. I have trusted them with my emotions. Like in Chennai… I make such funny faces, I play a wuss... my son was laughing at me saying you are so scared all the time and then you suddenly become all tough. It's like I'm doing something very silly, but I am very shy doing it as an actor. There's a sense of how they know me inside out. Sometimes I need retakes if I do it badly, I need encouragement.  

How different was it working with Deepika from your Om Shanti Om days?
It's always the same for me. No actress who works for me the first time has ever come back and said 'We were so awed because he was so cool.' I know the lines inside out. But I will never try to show that I am a more experienced actor. You can ask Anushka or Deepika or, even the established actors Kajol, Rani and Shilpa, who did their early films with me, they'll never tell you that it felt like working with an actor who has done 40-50 films. 

I understand that as an actor no matter how many roles and scenes you do, it is still very difficult doing it, it is very personal. Sometimes when I am shooting in the crowd and there are like 200 people standing there saying 'kitna achha actor hoga yeh'  But I am as unsure. I am very vulnerable to expose myself as an actor to so many people everyday. Actually it's very scary. I have never gotten the confidence for that. And as long as I remain that vulnerability, it will come onscreen and the audience will appreciate it. I am not too much in control over it. I may act well, but I feel very vulnerable.

Was there something that you imbibed from Rohit's style?
Rohit's sensibility of cinema is completely different from mine. He is very clear, as far as his film reaches the mass audience, he is happy. See every director has his audience and he knows them inside out. Rohit has a very clear idea of what people want to see in his film, from his actors and the way the story has to be told. The films he makes are extremely difficult as he has to combine a lot of genres. His films do face flak sometimes, but he has a strange innocent confidence like see I do it for a certain reason and I'm not going to let that go because some people think it's not the right way to do it. He's got a great brand, he's hardworking, very humble. He is very sweet, straightforward and very honest about his work. 

There are so many newcomers in the industry. Do you look at them as competition? 
There are these talks happening all the time, so it's naturally frivolous. I think all of us, all the actors come with the ideology that I want to be like some actor. When I came in the industry, I wanted to be like Amitabh Bachchan. I'm sure there are people who want to be like Rishi Kapoor or Rajesh Khanna or Dilip Kumar... But someone comes to the industry, wanting to be like an Aamir Khan, Salman Khan, Akshay Kumar, you don't want to be acting like them. They should hope to have a body of work like theirs. But I never think about how this is good for me that a newcomer wants to be like me. 

I don't think about them. I'll be honest I have enough things to think and feel about in my life without having to include people whose lives don't matter to me. I am an actor I have done this for 22 years. My mind and heart has no space for any other thought or feeling except how can I make my audience happy. For me it has to be very exciting and I keep thinking about what is exciting for me because I assume that I will be able to pass that excitement to the audience like with Chennai Express, I think my excitement of doing this film was little infectious and Deepika has never done a film like this and so it was like 'Wow man' it was new for us, though the film has been done before. 

Is that what drives you?
In the parameters of popular cinema or offbeat cinema that I do, it is the one main thing I look forward too. Or if I don't get that, then there is the excitement of working with a known person. As in 'dost hai, chalo maza aayega'. Like Adi (Rab De Bana Di Jodi) and Karan (My Name Is Khan) I am very lucky that I have directors who want to rediscover something new not only about me but themselves also, through the films we do. Of course we will be bound by how we think and what we know but our films will still have a similar style. But I don't sit down and think about anybody else.

Do you ever feel torn between doing a project that you really want to do versus a film that will be liked by the audience?
Never. I do the film that I would like to. I have never done a film on the basis of anything else ever. Which is something I am very proud of. There was only one film in my career that I have done for which I accepted the reason in my heart. I needed some economic and finanacial balance at that point in life. And I had a great experience even then.  

You have cracked the South market... 
I didn't intend to. I mean its called Chennai Express, but initially we thought people will pan it down South assuming that we are making fun of the South Indians. But it is not to be so. I just heard that people have been clapping. So well I have the overseas and the south market then, what to say.
Source: http://www.dnaindia.com/entertainment/1872956/interview-money-has-never-been-an-issue-because-i-have-never-done-films-for-that-shah-rukh-khan